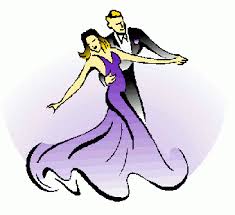 Ballroom Dancing Etiquette
This page is meant to be a sort of summary of some of the more important dance etiquette tips. Other web pages have additional information, so you can always check them for some more information. Some of them are listed in the etiquette sectionof informative files on my main ballroom page. I have the points split up into different areas which will hopefully make it easier for you to find what you're looking for. I'll also try to keep the tips relatively short, providing additional information as I see fit. Also, since I am writing from a man's/leader's perspective, some points may be worded with a particular gender, but they generally apply equally to both men and women.
Asking/Being Asked to Dance
If there's someone you want to dance with, you should feel free to go and ask her to dance. This is especially true for beginners — don't be afraid to ask someone to dance. In my personal experience as a beginning leader, women are normally very good about dancing with beginners and really don't care if you only know three steps. So go ahead and ask them to dance. 🙂 You can warn them that you're a beginner when you ask, if you want (I used to). Also, it's not common to be turned down unless the person is taking a break and sitting out the dance, so there's little risk of rejection. 🙂 Although tradition has men asking women to dance, there's absolutely nothing to stop women from asking men to dance (and a lot do, in my experience). In fact, I'd encourage women to ask the men to dance; some like me are a little shy. Plus if you ask us, then we know you do enjoy dancing with us and aren't simply being polite, accepting our requests to dance because you feel you have to. Here are some points to keep in mind on this topic.
Always accept invitations to dance unless you don't know the dance in question or if you are sitting out and taking a break. If sitting out, you should not accept an invitation from another person. You can also decline if you have already promised the dance to someone else, but you should avoid setting up many dances in advance. You are also allowed to decline for other good reasons, e.g. that person has physically hurt you in the past, so you should never feel *forced* into dancing with someone you don't want to dance with. Don't let etiquette or being polite overrule your own common sense and good judgement.
If you must decline, it's common, but not required, to provide a reason (e.g., I'm resting). Optionally, you may suggest dancing the next dance or a later dance, but if you do, make sure you do reserve that dance and don't dance it with someone else. A turn down without explanation is generally considered more serious and usually taken more personally than a turn down with an explanation, so you should be careful about declining without giving a reason.
As a general rule, you should expect to dance at least once with every person that asks you to dance. If you decline because you don't know the dance, it's probably a good idea to suggest dancing the next dance that you do know, or if you're just resting, you can suggest dancing the next dance.
Requests to dance should be polite and can be very simple. Things like "May I have this dance?" or "Do you tango?" (when you don't know if the person you're asking knows the dance) usually suffice. Smiling and offering your hand is good, too. 🙂 I've also found that for people I dance with regularly, making eye contact and then smiling and offering my hand is often enough, so sometimes I don't need to say anything.
Always ask the person you want to dance with directly. That is, if the woman you want to dance with is talking with someone else, there's no reason to ask the person she's talking with if you can dance with her even if it is her boyfriend/husband/etc. If you want to dance with her, ask her. Asking a man for permission to dance with the woman he's with is a bit out of date and potentially offensive to the lady (I'm not his property, it's my decision who I dance with, not his, etc.). So ask her directly and then if she wants to check with the person she's talking to if it's OK, that's her choice. But be polite about it — don't rudely interrupt a conversation and yank someone away. If the woman I want to dance with is talking to someone else, I usually go over there and listen in to their conversation, then when they pause to acknowledge my presence, I'll greet them, maybe chat a bit, and then ask her to dance.
If there's a group of people together and you want to ask one of them to dance, be clear as to who you are asking to dance. It can be embarrassing for people to think they've been asked to dance and then find out they weren't. Making direct eye contact with your desired partner and/or holding out your hand can help make your intentions clear. Asking by name will obviously work, too. 😉
Try to avoid monopolizing partners, particularly ones of a higher level that yourself. It's generally considered bad form to always dance with the same one person (or few people) all the time, so you should frequently switch partners. I add in the point about better dancers primarily on my own experience that almost everyone likes to dance with the advanced dancers, so they're often in high demand. While the advanced dancers do usually dance with anyone, beginners included, I'm sure they like to dance with others of their own level as well, so it's good not to monopolize them.
Another point I saw somewhere said that if you can, you should try to avoid walking past people in order to ask someone else to dance. It can make those not asked feel like they've been passed up. This is something I usually try to do, but it gets higher weight for people I know (i.e., I'm more likely to pass by someone I don't know than someone I do know). I wouldn't let this stop you from going and asking someone to dance if you really want to dance with them though. 🙂
Increasing Your Chances of Being Asked to Dance
The following points generally apply to women since they are usually more likely to be asked to dance. However, it applies equally to men since there's nothing to stop a woman from asking a man to dance. 🙂
Requests to dance are generally very rarely turned down. If you must decline a dance invitation, then it's usually a good idea to suggest that you dance the next dance or the next one of the same type with the asker. If you don't attempt to counter your declining of a dance request, then each time you decline a request, you are reducing the chances that that person will ask you to dance again.
It is considered extremely rude to decline one person's request to dance and then accept a request from someone else for that same dance (same song). The first person that you decline will normally take your refusal to dance as a personal insult when you go ahead and dance with someone else on the same song. Doing this is very likely to put you on that person's "don't ask" list. If you turn down one person's dance request then you have to sit out the whole dance if you want to remain on good terms with that person. However, if you provide a reason as to why you want to dance with someone else and the person accepts it, then there is no problem.
Be positive when you are out dancing on the dance floor. Enjoy yourself, that's what dancing is all about. There's no need to apologize to your partner for every single mistake you make. Your partner may not have even noticed that you made a mistake (especially if you improvise well). 🙂
Your skill level has less to do with whether someone will enjoy dancing with you than your attitude towards dancing and simply having a good time. This may come as a bit of a surprise to beginning dancers, but it is generally true. You don't need a big repertoire of fancy steps to be an enjoyable dance partner. Doing a few simple steps well can be better than doing a lot of fancy steps poorly.
Out on the Dance Floor
OK, so now you and your partner are getting out on the floor to dance. This section provide some tips on things you should do when dancing.
Follow the line of dance — dance counter-clockwise around the room for the dances that progress/travel around the floor. Some moves may take you against line of dance and it's OK to do them if the area behind you is clear, but watch where you're going. Just remember that you don't really want to be going against line of dance for more than a couple of steps.
Stay in the proper section of the dance floor. Faster moving couples stay to the outside and slower moving/stationary couples stay to the inside, just like traffic. This is very important because people travel at different speeds and if you're in the wrong section of the floor, you can end up blocking or running into other dancers or maybe force them to dance around you when they shouldn't have to. If you're not travelling, then get to the center to dance; don't try to hide in the corners because you'll end up blocking traffic on the outside of the room.
Don't practice routines at social dances. There are other times and places for doing routines.
Don't teach if you weren't asked to — remember that the social dance floor is not a classroom. Unless the other person specifically asks for help or advice or you already know that the person is willing to accept unsolicited help and advice, then you should avoid trying to teach things to your dance partners. This is especially true if you're not a dance teacher; leave the instruction to the ones most qualified to give it. However, you should feel free to ask for feedback from your partner on how a move felt or something. I do this at times in order to gauge how well I'm dancing and get tips on how to improve. If I don't ask for feedback, then I won't know what's wrong and can't try to fix it. 🙂 But avoid telling your partner how to do something when out social dancing. There are other times and places for teaching.
It's also generally not a good idea to ask someone to teach you a certain dance if you don't know it at all, particularly if you're asking someone you don't know very well. This puts the other person in an awkward situation — they may not want to turn you down, but they may also not want to take the time to teach you when you don't know the dance at all. It's different if you only know a few steps, because then you can at least do just those steps. A better option is to hint that you'd like to dance, but don't know the dance at all because this gives the other person an option — offer to teach you some steps or just accept it as a legitimate rejection. If it gets treated as a rejection, just accept that and don't hold it against the person; asking to be taught on the dance floor is asking for a pretty big favor.
Both partners need to look out for danger and potential collisions. Generally this task is performed by the man, but the woman must warn the man if he's moving into danger and doesn't realize it which will often happen when the man is moving backwards (and so can't see exactly where he's going). If the danger is still some distance away, just keep an eye on it. If it's closer, like only a few steps away, the woman should signal the man with a gentle squeeze, not a death grip :), on his arm. The man will then attempt to alter what he was doing so as to avoid a collision, but the woman may assist in this if necessary. As a last resort the woman can stop dancing to prevent the couple from moving anywhere else, but this should be done only in emergencies; you should always try to avoid the danger as early as possible and allow the man a chance to move out of it.
If a collision occurs, apologize to the couple you collided with. This goes for both couples involved, regardless of which couple bumped into the other.
Use caution when entering and leaving the dance floor when other couples are still dancing, so that you avoid causing collisions. Also, try to avoid stopping while dancing so that you don't block traffic.
Practice good floorcraft. As the Rec.Arts.Dance FAQ says, this means two things — avoiding collisions and keeping the flow of your dance. Lots of social dancing helps you learn floorcraft and how to plan ahead and select the right steps for the situation you're in. However, even without lots of steps at your disposal, you can still do things like overturn or underturn turns, hesitate at the end of a step or in the middle of a step, etc., so you should always do your best to avoid collisions. Don't just assume someone else will get around you or clear the way for you. Things will flow a lot more smoothly if everyone does their best to practice good floorcraft.
Miscellaneous
This section is basically for other points that didn't really seem to fit in any of the above categories. Also included are points that may be more personal than general rules, but others may also like to follow.
Always thank your partner after the dance is over. Being polite goes a long way on the dance floor. People generally like to dance with other people who are polite and well mannered. It's also nice to walk your partner off the floor when the dance is over, but not required, especially since both of you may be looking for another partner for the next song.
Personally, I attempt to dance with everyone I know at a social dance. Now I know so many people that I'm almost never able to do that anymore, but I do try to dance with a lot of people, especially ones that I haven't seen for a while.
Try to avoid dancing with the same person many times, particularly in a row. Social dancing is just that, social, so you should try to dance with many partners. That's why it's usually a good idea to go and find a new partner after each dance. If you and your partner both wish to keep dancing with each other, then it is OK to continue to do so. But if you are going to dance with each other multiple times, it is still a good idea to change partners once in a while. There are other people that want to dance with both of you, too.
---
James Marshall
marshall@astro.umd.edu (plain ASCII text only, please, here's why)